ATV
ATV Insurance Georgia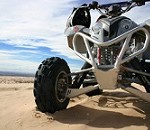 Many riders do not understand the importance of having ATV insurance in Georgia. This type of coverage is necessary for many reasons. ATV insurance it a necessity because it can protect owners, riders and property owners from huge expenses.
Homeowners policies may not cover injury to riders, or the damage all terrain vehicles can cause, should an accident or mishap occur. Health coverage may have exclusions for activities that are considered dangerous or risky. Therefore, unless ATV insurance in Georgia is obtained, injuries may not be covered.
ATV Insurance Protection In Georgia
Homeowners policies may cover injury to guests or visitors. When those injuries occur away from the residence and on a sport vehicle, they may also not be covered. There are many unforeseen events that can lead to damages of the vehicle itself. This is usually not covered by other policies. Having ATV insurance in Georgia means that expensive damages can be repaired in a timely manner, without too much out of pocket contribution.
Often, sport vehicles are kept locked in a garage. However, this is not possible when away from home, such as on a camping trip. Though owners may take every precaution to keep vehicles secure, such as putting away the keys and keeping the vehicles in highly visible areas, theft can still occur. ATV insurance in Georgia can protect owners from such cases of theft.
Reducing The Cost Of Georgia ATV Insurance
Every moving vehicle, whether an ATV or motorcycle, should be covered. Some companies will add such vehicles to the auto policy. If you have multiple insurance policies with different companies, it may be wise to consolidate them to get a better deal. When looking for the best rate quotes for ATV insurance in Georgia, the first place to check is Steve Stephens Insurance.
An experienced agent, such as Steve Stephens agency, who has been providing ATV insurance in Atlanta and Georgia for nearly fifty years can answer all your questions about ATV insurance in Georgia. An experienced agent can help you determine how much coverage is needed for injury protection, theft and liability for damages to the property of others.
Home of Steve's Model "A"