Classic & Antique Auto
Classic Car Insurance Georgia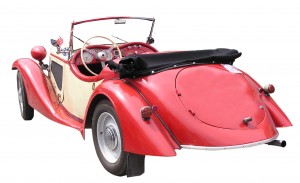 If you need classic car insurance in Georgia, then you need a trusted resource like the Steve Stephens Insurance Company. Steve Stephens has been serving the needs of Georgia drivers for almost half a century and can create an insurance package that best serves your unique needs as a Georgia driver.
Unfortunately, it only takes an instant for an accident to happen, but the effects can linger on long-term. Even if no one is injured or killed, just one accident can take a financial toll if there is damage to property or if your own vehicle needs to be replaced. With an insurance policy from Steve Stephens, you can protect yourself from the huge financial setback of an accident and breathe easier knowing that one accident won't cause financial ruin.
Finding Classic Car Insurance In Georgia
If you are a new driver or someone who is considering changing insurance companies, the Internet is a good resource for locating
Georgia auto insurance rates. In addition to the convenience of 24 hour access, shopping for insurance online give you the opportunity to compare the features of several auto insurance policies side by side. You have the option of entering different variables, such as minimum deductibles and additional services like towing and rental car reimbursement, and then deciding which features and prices are going to be the best fit for your budget and your driving needs.
Steve Stephens Classic Car Insurance Provider
As a classic car insurance provider in Atlanta for the past 48 years, Steve Stephens is very knowledgeable and can be trusted to provide you with the best classic car insurance in Georgia. The agents at Steve Stephens are friendly and courteous and go out of their way to provide you with excellent customer service. When it comes to something as important as your auto insurance, you need the experience of Steve Stephens on your side.
*****The coverage you want for a competitive rate*****
Flexible Usage Plans:
We offer plans that are tailored to your driving needs.
Drivers Club:
24 X 7 roadside assistance, FREE and automatic with your policy.
Total Protection:
Inflation Guard Protection
Spare Parts Coverage
Towing and Labor Coverage
Newly Acquired Vehicle Coverage
Trip Continuation Coverage
Agreed Value Coverage-guarantees the value of your vehicle in the event of covered total loss
Georgia Classic and Antique Car Insurance Provided by:
Classic Collectors Insurance by Infinity
JC Taylor Antique Automobile Agency
Video of Interest