Motorcycle
Motorcycle Insurance Georgia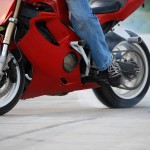 Anyone who is interested in traveling on the roads in Georgia and throughout the United States needs the proper insurance. While many people are aware that car insurance is a necessity, few people know the specifics related to obtaining motorcycle insurance in Georgia. Those who choose to have a motorcycle as a method of transportation must take the same steps required to obtain car insurance in order to operate their transportation in a safe manner.
When seeking motorcycle insurance in Georgia, individuals should conduct a thorough online search just as they would do for car insurance. The major difference is confirming that a particular company offers insurance for motorcycles. Some people who currently have insurance may seek to obtain motorcycle insurance in Atlanta via their car insurance companies through an additional policy. Those who do not possess existing insurance coverage can conduct a search via the internet for insurance for motorcycles.
Recommendations For Motorcycle Insurance In Georgia
It is recommended that individuals review the various coverage options available for motorcycle insurance in Georgia. While a low quote may seem ideal in terms of cost, there are reasons why quotes for insurance vary. Higher quotes are often associated with more comprehensive coverage.
Individuals who purchase motorcycle insurance in Georgia at higher rates may have additional insurance options such as roadside assistance, personal injury and theft coverage and even alternative transportation options in the case of an accident. A lower insurance quote is beneficial for those seeking to reduce out of pocket costs. However, before individuals select a quote, it is best to compare the services that are offered by each company in order to get the best motorcycle insurance coverage possible.
Motorcycle Insurance Cost In Georgia
Finally, the cost of motorcycle insurance in Georgia is affected by various factors. It is important for people to know what elements effect insurance cost. Such factors as age, driving experience, the type of motorcycle, insurance history, credit history and whether the motorcycle will be used for personal or leisure riding, all determine what individuals will pay to insure their motorcycles. Knowing this information allows the ability to be well-informed about the process of obtaining motorcycle insurance in Georgia.
Steve Stephen Insurance agency has been helping motorcylce riders find the best quotes on motorcycle insurance that is most suited for their needs for over 48 years. When you leave the work of finding coverages on motorcycle insurance in Georgia to a proven professional, you will be privileged to the best quotes possible.
Insurance for your:

Insurance Provided By:
Progressive
Foremost Insurance Group
Dairyland Cycle Insurance
Possible Discounts Available:
***Home Ownership Discount, Riders Safety Course Discount, Riders Club Discount***
Home of Steve's Model "A"